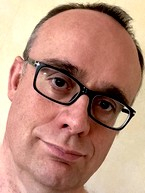 Fabrice VILLE
+33 6 60 54 50 22
+33 4 72 43 89 30
To contact

Office : 324203X - Building S. Germain - 2ème
Research Team(s) :
Mechanical Systems and Contacts (SMC)
- 100%
Title : Professor - INSA
Fields of expertise
Experimentation
Damage & Fracture
Surface Characterization
Lubrication
Thermal Analysis
Mechanical Transmission
Tribology
Wear
Publications
Activities :
L'activité de recherche consiste en l'analyse fonctionnelle des transmissions. Deux axes d'investigations complémentaires sont étudiés :
1-amélioration et optimisation des composants (roulements, engrenages) afin d'en accroître la durée de vie, en particulier dans les boîtes de vitesses automobiles. Cela consiste à mesurer l'effet sur les mécanismes d'endommagement :
- de la pollution solide des lubrifiants,
- des états de surfaces (rugosité, défauts de surface) et traitements superficiels (grenaillage, nitruration)
- des additifs présents dans les lubrifiants.
2-analyse et réduction des pertes de puissances dans les transmissions hautes vitesses (> 10 000 tr/min). A partir de mesures expérimentales, des outils de prédiction des différentes pertes (ventilation, piégeage du mélange air-huile en fond de dent, frottement à la denture, barbotage ...) sont développés.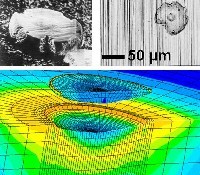 modélisation du processus d'indentation